The Valentine Series - Planned

The Tales of Barnabas Valentine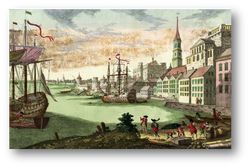 The Irish lad was a mere fourteen when he was kidnapped from a northern Irish harbor while harvesting flax for the family's linen weaving business. Three unwashed, ragged seamen grabbed him from behind and dragged him kicking and screaming toward the harbor, but there was no one nearby to hear.

He never saw his parents again. He never saw Ireland again. Forced as slave labor on a tall ship heading to America, he and another kidnapped boy of twelve helped fill the places of deceased men in the scurvy-depleted crew.

This true story follows Barnabus Valentine from Ireland to Boston where he escaped his captors by hiding out in Boston Harbor.
The year was 1772 and he arrived just in time to fight both for his life and in the American Revolution.

The Valentine's series is the story of his extraordinary life.

---